Every moment presents an opportunity and a choice.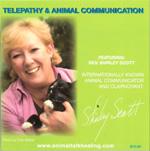 Telepathy and Animal Communication 
Start learning the skill of animal communication and telepathy. This is how all the animals even humans communicated daily. Learn how to tap into this form of communication and start opening your life up to the world of thoughts and animals.
$12.95, plus $5 shipping and handling.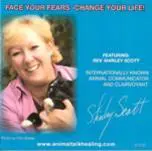 Face Your Fears - Change Your Life 
The most challenging fear we face is that of change. On the CD, Shirley gives you tools to help you face that fear. Find out how to face the fear of change and start living a better life.
$12.95, plus $5 shipping and handling.
Is That a Goat Under That Coat
This is a child's book for ages from 4 to 10+. It is about being evacuated from a forest fire from a farm animal's point of view. Rigger is a small goat that had to be removed from his home for the first time in his life. He also had to be separated from his family and friends for one terrifying night. This is a true story as seen through Rigger's eyes, as he told it to the author, after he was home safe from the fire. This story is also a credit to the 900+ firefighters that fought The Double Creek Fire in Imnaha, Oregon in 2022. We wanted to thank them for all their hard work, to save all the houses in our area, all the farm animals, and wild life.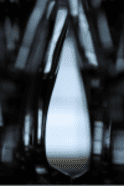 It was love at first sight for Peter and Kathy. They were perfect for each other and even Kathy's service dog, Ruby, loved Peter from the first night she met him. Kathy was painfully aware she was from a common background and Peter was from a rich family with power.
There was only one thing standing in their way; a woman from Peter's past. A woman that wasn't about to let 'her man' go. It is a love/horror story with a twist at the end.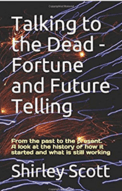 Talking Dead - Fortune Telling
As you read through this book, remember to keep an open mind, positive thoughts, and feel in your body how you are feeling about any of these tools. This is a fun book to help you explore different ways you might want to look at your life, your future, and if anyone from the other side is trying to talk to you. 
Some of these tools and practices are very old and are either not used today or used in a very limited way. I am not endorsing any of them. What I am doing is bringing out information about how these are used and what the users think they do for them.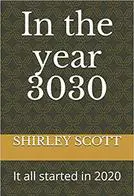 2020 was a rough year worldwide however, it was about to get worse. Tensions were high when a worldwide pandemic caused financial ruin, leaders restricted freedoms and made laws to control the masses. Jobs were scarce and people were going hungry and losing their homes. Chaos reigned in every country.
There had been two massive secret projects that most of the people around the world knew nothing about, only the rich and powerful leaders knew about these projects. This elite group of people had seen the downfall coming and were preparing to save themselves and their families.
Underground building had been going on for decades around the world and the space station had evolved into a massive place where thousands of people could live.
It would take another thousand years for someone to take charge and try to save what was left of the human race and the Earth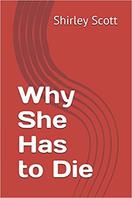 Then, on that fateful night in May, everyone in the county who had a police scanner was glued to it. The people that lived near Stephanie were calling into the Sheriff's office in a panic. They wanted to make sure they were safe as they heard there was an armed and dangerous man hiding in the woods ready to have a shootout with the cops. There was something about a woman in a cabin and she couldn't leave because of this mad man.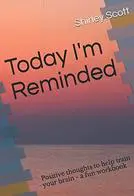 As you read through this book, my intent is to help you change your way of thinking about life and your life. I have left room between each day so you can write notes about what happens in your day when you start it with a positive thought and hold that thought throughout the day.
Writing down events or situations will help you see how positive thinking can change you in a positive way. There are no chapters. The only character in the book is you. The only plot is a positive thought.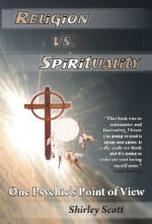 Religion vs. Spirituality 
NEW - I have a new book out! Religion vs. Spirituality will help you understand there are some things that just can't be proven but they are real and they happen every day.
It explores our basic belief systems in a simple, down-to-Earth way that everyone can understand. I believe whether you're religious or spiritual, your belief system should never be too complicated.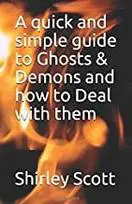 A Quick and Simple Guide to Ghosts and Demons and How to Deal with Them
What is the difference between ghosts and demons? How to know if you are dealing with a ghost, a demon, or residual energy. Shirley believes that there is intelligence in all energy and we can all learn and grow from it, even ghosts and demons. So open the book and open your mind to what might not make sense but does exist.
Monthly Rates for Spiritual Advising
4 one hour sessions, once a week to teach you how to live a more spiritual life, talk to your guides and angels and help you learn how to let old patterns go. The total cost is $520 and must be prepaid before the classes begin. Sometimes it's more fun to learn with a friend.  Add a friend to these classes for an additional $400 and save.  That means both of you would pay just $460, a savings of $60.
Learn how to communicate better with your animal companions or even wild animals.  These are 6 classes.  Once a week for 6 weeks and the phone calls are an hour long.  The total cost is $780.  Must be prepaid before the classes begin.  Add a friend for an additional $550.  That means each of you would only pay $665 a saving of $115.
Learn how to open up to your intuitive and/or psychic gifts.  Learn how to talk to your guides, bring miracles to your life and manifest what you want in your life.  How to find your confidence and your path.  This will be 8 classes, one hour each for 8 weeks.  The total cost of this is $1040.  You can prepay half and then pay the other half after the first four classes.  Add a friend for an additional $800.  That means each of you would pay $920 – a savings of $112.
There are no refunds on any of the classes and we can reschedule up to two times before you will be charged for that time slot whether you can make it or not.